Our streamlined design and remodel process brings lasting beauty and functionality to your bathroom—swiftly, painlessly, and on budget. Once we start work on your project, it becomes our life until it's done and your expectations are met. No surprises, no disappointments, no extended disruptions to your home. Just the gorgeous bathroom makeover you always wanted at the price you expected to pay.
Introducing Kohler's New Choreograph Line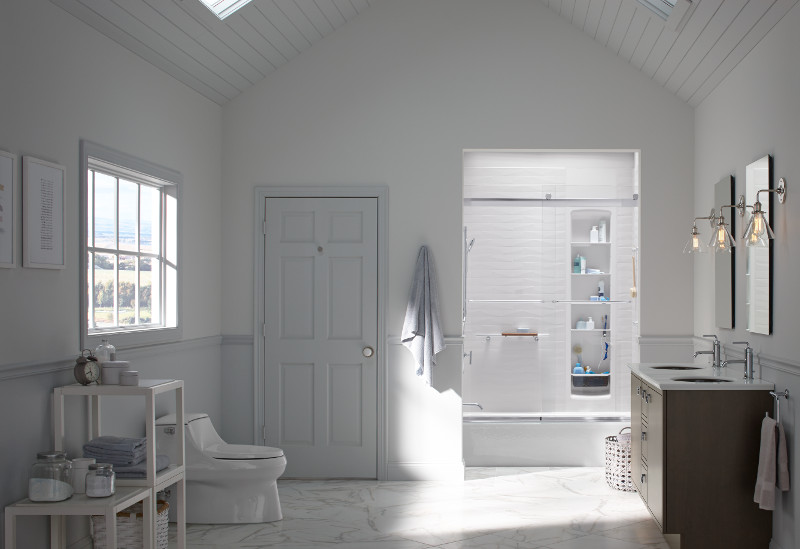 Cluttered Shower or Bath? Discover a new solution to your daily routine.
Bath Fixer is proud to provide Kohler's brand new Choreograph line of showers and accessories. The system is designed to let you customize the dream bath that fits your daily needs. Beautiful wall materials and colors pair elegantly with the modern accessories and storage solutions. Each piece is created with you in mind—easy to clean and able to be installed just where you want it. It's simple–durable Serica wall panels are installed over your current shower or alcove bath, and then accessories are built where you decide.
Choose your shower type and size
No matter your shower type, there is a solution for you. Start by measuring your shower or bath. If you have a standard alcove shower, there are two options available to you. You can opt for a wall kit, which comes with three walls and color-matched trim, or customize the colors and materials of your wall and trim.
If you don't have an alcove shower, you have the opportunity to make the space your own by completely customizing your new shower or bath. Pair walls, accent panels and trim to create the sanctuary of your dreams, mixing and matching designs and colors to fit your space and vision.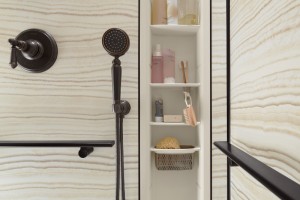 Choose your Accessories
The Choreograph system offers a vast selection of additions to keep your shower organized and suitable for you and your family's routine. From shelves and locker storage to flip-down seating for those early mornings or late nights, there is an accessory that will make your daily routine more relaxing. All of the accessories are designed with you in mind — using an innovative approach to each piece: the removable floating shower shelves are easier to clean, a shower barre with optional teak tray gives you stability and extra storage space, and the shower locker comes with adjustable and removable shelves for easy cleaning and product storage. Plus you can choose your colors and finishes to coordinate with your walls!
Ready to start planning? Kohler offers a powerful tool for building your perfect bathroom!
---
Veil Wall Hung Toilets
A wonderful product is the Kohler "Veil" series for wall-mounted toilets.  It has a concealed tank and a minimal footprint – freeing up more space in your bathroom remodel – up to 12″ with this series. The mounting hardware is totally concealed after installation.  You will find the new sleek style is also very easy to clean, has a dual-flush technology and high efficiency saving up as much as 6,000 gallons of water annually compared to the traditional toilet. Be sure to ask about this exciting new product.
---
Thicker Counter Tops
We can bring a thicker more custom counter top to your bathrooms.  Typically you find a 3/4″ thickness in countertops. Our cultured marble, porcelain cast, solid surfaces or other materials allow us to install a 1.5″ thick countertop – you are limited only by your imagination!
---
Bowl Sinks
Again, your imagination can rule the day!  We can provide these in concrete, porcelain, undermount,  glass, copper, stainless steel, bamboo, and stone.
We offer many brands such as Kohler, Ronbow, The Marble Shop, Viking Sink, Karran, Santa Fe Glass, Corian, Silestone, Austra and Swanstone.